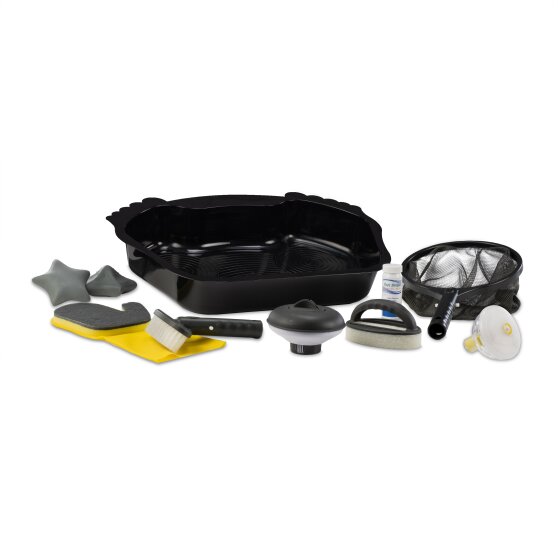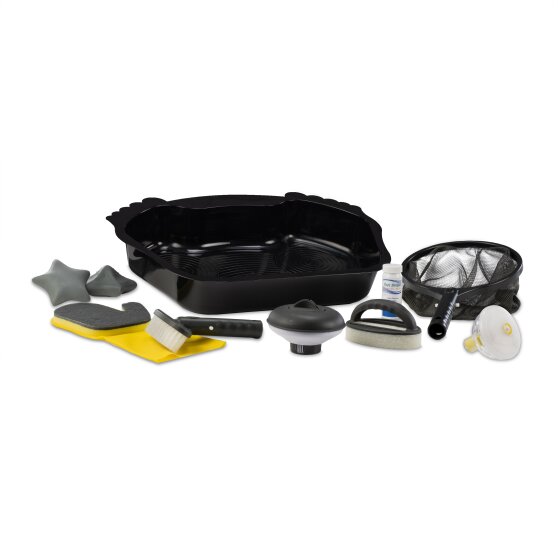 From £ 50, free shipping

Personal advice, also via chat!

Excellent warranty conditions
Do you have a question?
We are here to help you!
+31 314 - 796 020
Monday to Friday
8.30am - 5.00pm
info@exittoys.com
For more information
send us an email
EXIT spa starter kit
Would you like to get your spa immediately ready so you can enjoy the lovely warm water, the relaxing bubbles and unwind completely? Then the EXIT spa starter kit is a must! This starter kit consists of test strips, a foot bath, cleaning set and a floating LED lamp.
The water in your spa stays clean and fresh with our EXIT 3-in-1 test strips. With these strips you measure the chlorine level, the PH value, and the total alkalinity of the water. If you test the quality of the water in your spa twice a week, you can take timely action. This way you make sure the water stays healthy and is always ready for you to relax in. With the swimming pool foot bath, less sand and dirt end up in the water. The bottom has an anti-slip structure, for optimal safety.
Is there still dirt on the bottom? With the spa cleaning set you have the perfect tools at your fingertips. This set consists of a glove with sponge, brush, scoop net, two cleaning sponges and a chlorine floater. These will keep your spa clean and fresh, and you'll prevent algae and bacteria from settling themselves in the water. You complete your spa experience with the floating LED lamp. This ambient led lighting is adjustable to various colours and brings the spa to life. With this accessory you can ultimately relax in your EXIT spa in the dark, too!
Article number
30.97.70.60
Product group
Spa accessories
Requires assembly
No
Requires assembly
Before using, the product first has to be assembled. The product is not delivered ready-to-use.
Dimensions (L x W x H) in cm
60 x 40 x 30
Gross weight (in kg)
2.25
Standardly included
Test strips for measuring the chlorine level and the PH value
Spa cleaning set
Foot bath
Floating LED lamp
Delivery within 2 - 3 days
Delivery by DPD
Note: delivery times may vary due to possible delays at border customs (UK).
This product is delivered to your home by DPD. As soon as the order is shipped, we send you an e-mail with the track & trace link of DPD so that you can follow the shipment. You can also adjust the delivery time and address.
If DPD cannot deliver the order, the transport service will first try to deliver it to one of your neighbours. If this does not succeed, then the package can be picked up the following business day at the nearest DPD pick-up point. In that case, the transport service will leave you a note with the address where you can pick up the package.
Note: an order may consist of several packages, which - in exceptional cases - may not be delivered on the same day.
Note: all our products are delivered non-assembled, but you can easily assemble them yourself with the help of the included manual.