How do I take care of my EXIT trampoline?
At EXIT Toys we focus on durability. That is why our trampolines are made from high-quality materials built to last. In addition, you can also lend a helping hand to lengthen the lifespan of your trampoline. How do I go about that? EXIT Toys has put together a list of maintenance tips for you.
Tip 1: Place the trampoline on a low maintenance spot
To make it easy on yourself, place the trampoline on a spot in your garden which requires only little maintenance. For instance, if the size of the garden allows it, don't place the trampoline too close to trees or shrubs. This will reduce the amount of leaves, twigs or pollen landing on your trampoline, so that it will stay in good shape longer.
Tip 2: Check the trampoline regularly
In order to guarantee the durability and safety, it is important to regularly check the trampoline before use. Are there still some sharp branches or leaves on the trampoline? Remove these before jumping on it. To add to that, it is also a good idea to check the trampoline materials once in a while: Does the padding still cover the springs and is the safety net pulled tight? Yes? Then it's time for some fun and jumping!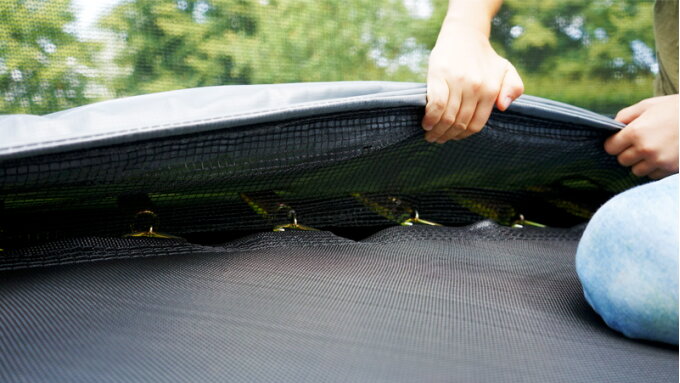 Luckily there is only a slim chance that you will encounter rust or damage when checking an EXIT trampoline. Our trampoline frames are galvanised, and powder coated so that they are optimally protected against the weather influences. The padding is UV-proof and the jump mat is made of high-quality material. In short: EXIT trampolines offer you years of fun and play.
Did you notice something that needs replacing? Then check your warranty. You see, EXIT Toys has excellent warranty conditions. In addition to that you can also easily order trampoline parts yourself in our web shop.
Tip 3: Give the trampoline a good clean
Now and again the trampoline needs to be cleaned. This way it will stay nice and clean while jumping on it, but the occasional clean will also keep the material of the trampoline in tip top shape. Wipe for example sand, grass and leaves off the jump mat: it will avoid the jump mat from becoming clogged after the rain leaving puddles of water on the trampoline. A heavy weight being left on the trampoline for a longer period of time could cause the springs to sag, and that's something we want to avoid!
EXIT cleaning tip: get to work cleaning with a soft cloth or sponge and lukewarm water. It is better to avoid using detergents, dishwashing liquid or hot water. You could add a very mild detergent, but make sure no traces are left of it on the trampoline.
Tip 4: Showers? Dry the trampoline!
The lifespan of the trampoline can be prolonged by drying it after heavy rain has fallen on it. This will protect it from discolouring of the padding and mould won't stand a chance. So now and again wipe the padding dry with a soft, dry cloth after rainfall.
Tip 5: Use a cover
A trampoline cover offers the perfect protection against weather influences and dirt from outside. Cover the trampoline when you know it won't be used for a while, for example when you go on holiday or during a rainy period. EXIT trampoline covers have special drainage holes to avoid puddles from staying on the trampoline. But please note: these drainage holes do cause a wet trampoline. In that case we do suggest that you use a dry cloth to wipe the trampoline.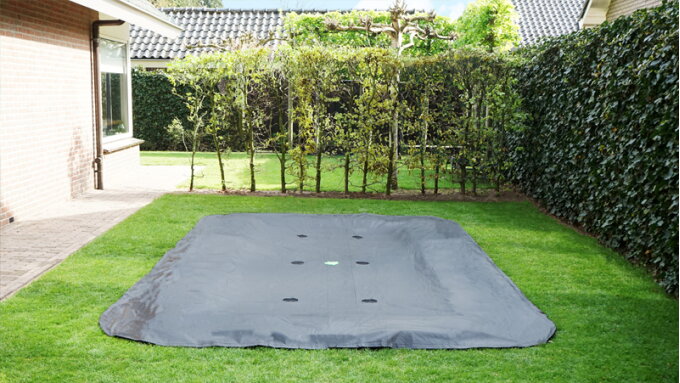 Tip 6: Store the trampoline away in the autumn and winter months
To make the padding and the safety net last as long as possible, we do advise you to store these two parts of the EXIT trampoline away in the autumn and winter. Luckily it is not necessary to disassemble the rest of the trampoline, but just make sure that you do protect it entirely with a cover. In the blog 'my trampoline in the autumn and winter' you can read about extra tips we have on trampoline maintenance during this period.
Thanks to these tips & tricks you will be able to enjoy using your trampoline even longer. Has this also made you want to start jumping right now? Check out our extensive collection of trampolines on the website.
More information? Call, email or chat with us!
Do you have a useful maintenance tip for us? Or would you like more information on trampolines? Please let us know! Contact us via chat, call +31 314 - 796 020 or email us at info@exittoys.com. We will get back to you within 24 hours.
Written by: Laura