EXIT rectangular swimming pools
Hours of fun in the pool with your family or with all your friends? With the rectangular framed swimming pool from EXIT Toys in your garden you never have to leave your home for a refreshing swim. The rectangular pools are available in different sizes and heights and always come with a water circulation system. Are you looking for a high-quality and unique framed swimming pool? Check out our range of rectangular framed pools.
Continue reading Read less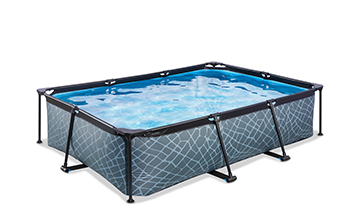 Unique swimming pools
The special thing about our rectangular pools is that you can easily place them in a corner, so they take up less space in your garden. The swimming pools also have a powder coated frame, so the pool will always stay in place and have a longer lifespan. What are you waiting for? Time to take a refreshing dive in the sturdy EXIT Toys frame swimming pool!
Keeps the water moving
With some of the large rectangular swimming pools of EXIT Toys you can choose from two different water circulation systems, namely the cartridge filter pump and the sand filter pump. A (sand)filter pump keeps the water moving and prevents the growth of algae. That way the water stays fresh for longer rand you'll enjoy your swimming pool even more!
Complete the swimming pool
Turn your swimming pool into a real paradise with the exclusive EXIT dome. For the small rectangular pools, unique canopies are also available. In addition, EXIT Toys offers several extra accessories for your pool, like wadding for the filter pump, (ground) covers and many more handy accessories. When you choose the rectangular swimming pool of EXIT Toys, you will be rewarded with endless hours of pool fun in your very own garden!
Read less