5x sporty activities to do with your child in the fresh outside air
Exercising in nature is extremely healthy. It gives you great energy, nice fresh air and a sufficient doses of vitamin D. And what can be more fun than exercising together? Enjoy that quality time while you are being active together. And not entirely unimportant either: When exercising endorphins, serotine and dopamine are released in your body, which make you feel better about yourself. So, what are you waiting for? EXIT Toys has made a list of four sporty activities for you:
Trampoline jumping
Did you know that bouncing on the trampolines is super healthy? It helps you to coordinate and control your muscle activity. Your sense of balance will become more refined. Just like your feel for rhythm and speed. The trampoline is also excellent to use for all sorts of sporty games. For example, with balls: fill the trampoline with small balls, such as the mini foam balls and try jumping around them. When you touch a ball it's game over! For a little variation, throw the balls from the ground while the person jumping has to try and avoid them. Have you been hit? Then rotate!
Football, volleyball or basketball
Ball games are always great fun. By playing a ball game, you train your agility, balance and coordination and helps you to develop spatial awareness. It also improves your techniques and ultimately boosts your confidence when you work at it together. There are endless variation possibilities with ball games. For instance, add a creative twist to your game of football by implementing extra rules: score a goal on a rebounder or play between the legs of your opponent.
A product that is excellent to use for variation is the multi sports net. As the name suggests, you can use this adjustable net for numerous different sporty purposes. Always handy to have at home. Football, volleyball, badminton or tennis: you can practice it all with the EXIT adjustable sports net. EXIT Toys has a large selection of sports products, with which you can turn your garden or park into a sports field in no time.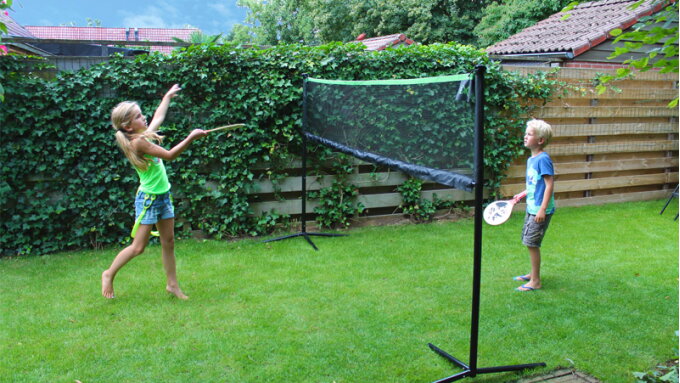 Swimming
Fun for all ages: swimming! Swimming is relaxing and gentle on the muscles. It doesn't impact the muscles as much as exercising on the ground. Having their own swimming pool is very handy for children. It means they don't have to leave home to have fun in the water. And did you know that EXIT Toys swimming pools are up to 122 cm deep? In the large, deep pools you can swim laps, play or tread water. Nice and refreshing on hot summer days.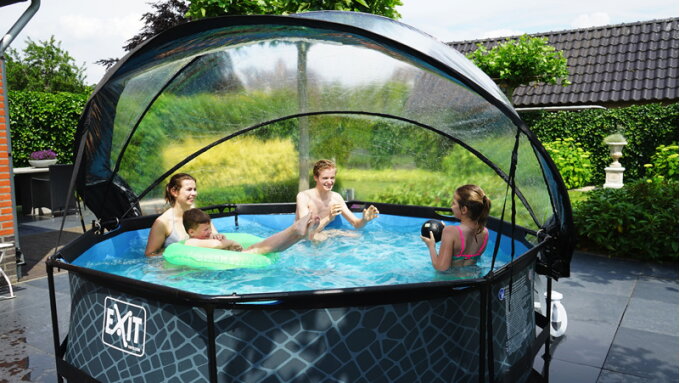 Walking, running or cycling
Put on your running shoes and off you go. It is so nice to empty your head in the outdoors and enjoy everything around you offered by nature. You may like jogging and someone else may prefer to join you on a triker or pedal go-kart. This way everybody can do what they love and still be nice and active together. Create a pit stop moment on a little field to do some extra exercises together followed by a quick sprint to the other side.
Dancing
Take a portable speaker outside, play your favourite music and swing away. With dancing you train physical aspects such as strength and agility while also staying in shape. In addition to that it stimulates your creativity and helps you improve social-emotional skills. Kids learn to express themselves with their body movements in dance. Then grab that tambourine, rattle or join in with other fun instruments. How about some limbo dancing or a game of musical chairs? Guaranteed fun!
Has this blog also inspired you to do a killer work-out? Go outside in matching sports gear and experience the best sporty adventures together: for (sweaty) bonding!
For more information? Call, email or chat with us!
Do you have any additional questions about our outdoor toys? Please let us know! Contact us via chat, call +31 314 - 796 020 or email us at info@exittoys.com. We will get back to you within 24 hours.
Written by: Laura