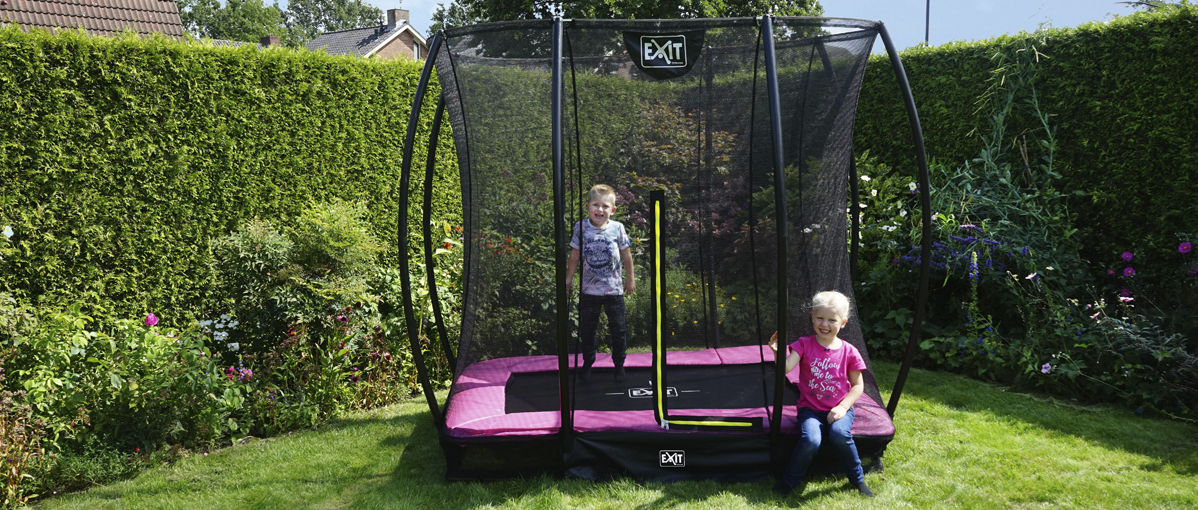 Children at home? Check out the outdoor toy ideas from EXIT Toys
The majority of us have to unexpectedly work from home and children can't go to school anymore which has jumbled up our normal, daily routines. It challenges us to find a new balance at home. To add to that, you can't spend time with your children every single minute of the day because of the work you have to do. Like when they are bored for example.
Luckily, they can still go outside. That's why our #1 tip is: enjoy outside play! Great for the additional daily doses of vitamin D. You can still keep an eye on your child from the terrace while you are working. When your kids are a little older, they can keep themselves busy playing outside in the fresh air. Do you need some inspiration? EXIT Toys has selected some fun outdoor play ideas for you:
Obstacle course with outdoor toys
Who doesn't love a challenging obstacle run? Take all the outdoor toys outside and let the children make their own obstacle course. Set it out using stools, tables, hoops, ropes and trampolines: everything you can move on, under or around serves as an obstacle. Use a timer to see who's the quickest. Nice and active fun!
For a little variation play the water relay with buckets. Great fun to do on those hot summer days. Place a large empty bucket at the end of the course. Then make holes in a little bucket and fill it with water. Ready set? Go! The children have to run as fast as they can to throw as much water as possible in the large bucket.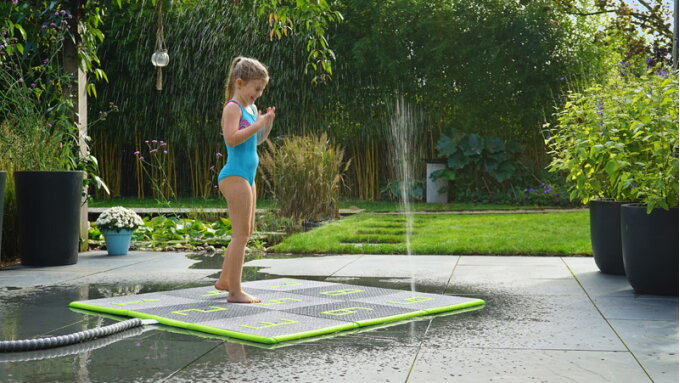 Sand- and water play toys
Children love sand- and water toys anyway. It not only stimulates their senses, but also teaches them to play together. Good old Monkey in the Middle and Kick the Can are always a great success also. For even more fun ideas:
Water darts
Draw a large dart board on the wall with chalk. Make circles and write the points in them. Throw a wet sponge against the dart board to score those points. One child keeps track of the score and is of course allowed to yell out: "one hundred and eighty…..!" Always such fun.
Water art
For a little variation, make wall art with water. Give your child some large brushes or rollers. To make it even more complete, fill up paint trays with water. Makes it all very real. Then just wet the brush and "paint" away. After a couple of minutes, it will dry up and your kids can start working on a new piece of art.
The pass on game
Everybody lines up one after the other with a plastic cup. Only the very first cup in line is filled with water. The person in front has to empty the cup behind their back into the cup of the person behind them. No peeking allowed! Did you manage it? Then hook up to the back of the line. Now it's the turn of the next person in front. Did you spill the water? Then it's game over for you.
Treasure hunt
Do you have a sand pit? Hide all sorts of "precious" items in the sand, like old pieces of jewellery or wrapped up treats. Let your child(ren) search for them. Make sure there are plenty of shovels, brushes and other items to use for digging. The pirates have lost their treasure chest. Will you help them search for it before they head back out to sea?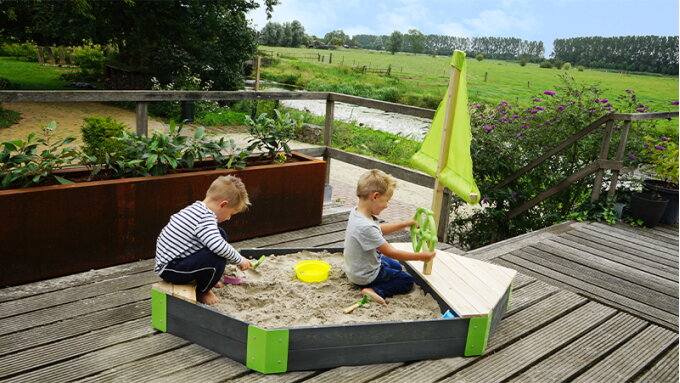 Make magic sand
Did you know it is really quite easy to make your own magic sand? For this you need to mix 8 cups of flour with a cup of baby oil. Then with little baking tins the fun can begin. They can play in the sand pit or let the kids sit outside around a low picnic table. The sand- water and picnic table from EXIT Toys is for instance a suitable table for young kids to work at.
Let them choose their own activity
Even though it is fine to help the children along a little, it is also important for them to decide on their own activities. Let them make a list, or a drawing if they are younger. Did they think of an activity themselves, then they will no doubt find it fun enough to keep them occupied longer. Collect all the ideas in a large jar and for each bored moment there will be a game idea ready to be drawn!
Play and learn along the way
Teaching at home? How do you go about that? Children can learn in many different ways each day. You could play a board game or cook a meal together. Growing your very own vegetables and herbs is also a great way of becoming acquainted with different ingredients. You don't need a big garden for this. In a planter table you can easily grow tomatoes, strawberries or radishes for example. Play and learn along the way!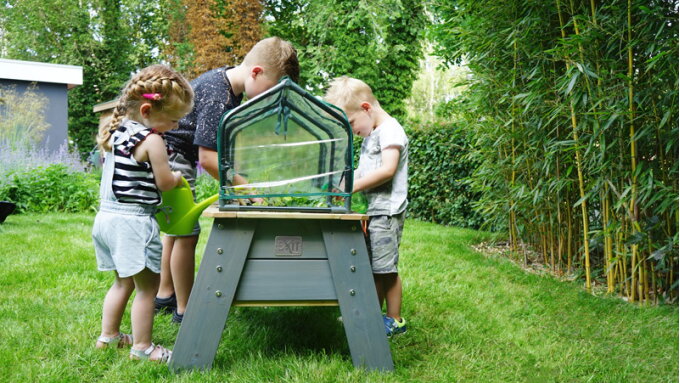 Take a walk after dinner
Providing structure, a well-known pillar in a child's upbringing. Children have a need for routines. This makes them feel safe and secure. Add structure to your day by carrying out certain standard activities. Take a walk after dinner every day and you will also stay nice and fit. Is it getting dark? Then it is even easier to keep your children busy. Hand them a torch and let them shine all around in the dark. Exciting stuff!
For more information? Call, email or chat with us!
Do you have any additional questions about our outdoor toys? Please let us know! Contact us via chat, call +31 314 - 796 020 or email us at info@exittoys.com. We will get back to you within 24 hours.
Written by: Geke