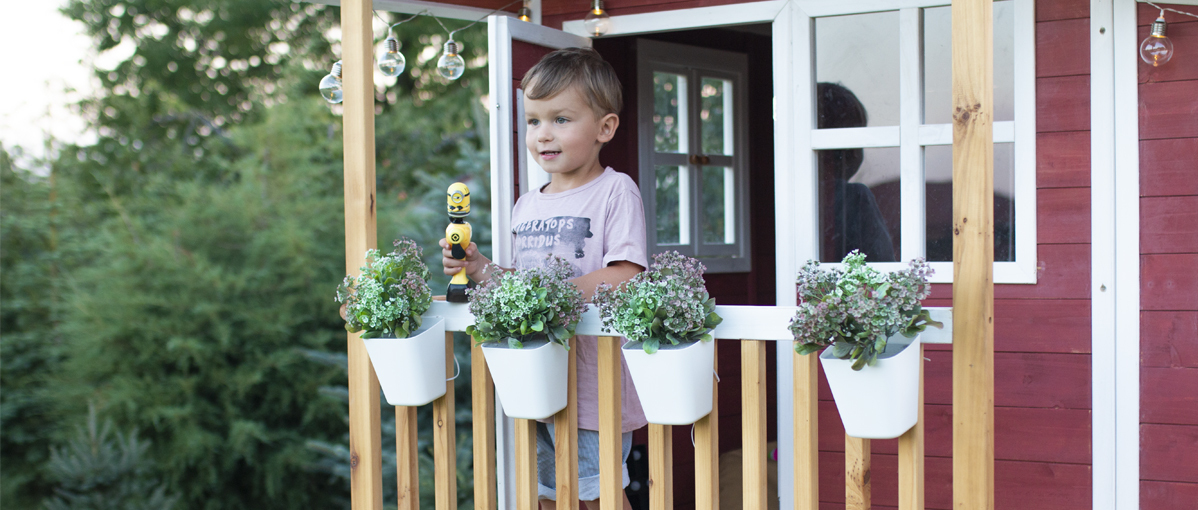 Get ready for spring with EXIT Toys!
Finally! It's springtime. Now that the sun is shining more often and the days are getting longer, we can head into the garden to prepare everything for the new outdoor season. Are you already feeling that spring vibe? We've listed some tips for you, so that you will be completely spring-ready when the first sunshine appears and you can sit back and enjoy the nice weather even more!
Spring-cleanse for your outdoor toys
After your outdoor toys have been exposed to frost and rain, it's a good idea to clean them when spring starts so that you can play with them again. Before you start cleaning your toys, it's always a good idea to carefully assess them: are they not damaged or incomplete?
Perhaps your outdoor toys need to be replaced, or you find out that you are missing a part. It would be a shame if you can't play with them anymore. Luckily, EXIT Toys has a broad range of spare parts, so that you can give your outdoor toys a new life. And have you considered the warranty on your product? At EXIT Toys we believe in our products and therefore you can benefit from excellent warranty conditions. Therefore you can enjoy your favorite outdoor toys even longer.
Fresh start of the outdoor playing season
Is your outdoor toy ready for use? Then you can give it a good clean. Grab some soapy water, put on your favorite music and start rubbing.

Playhouses and -towers
Do you have a wooden playhouse or play tower? You can clean it with green soap and water. In addition, your playhouse may need a new coat of stains. Treat the wood with stain every two years.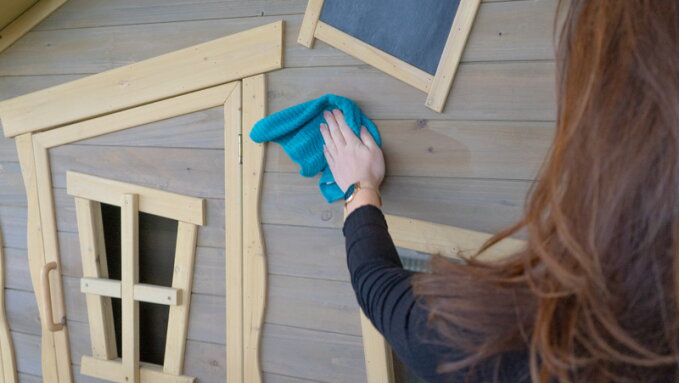 Do you have a play tower with swing? Check if the hooks are still securely fastened. Clean the swing seat(s) with warm water and mild detergent if necessary. EXIT Tip: replace your seat with a cool swing bag, lounge swing or nest swing and you can enjoy a variety of swinging fun.

Sandpits
Give your sandpit a fresh start after winter. Even if you've covered the sandpit during wintertime, it is wise to replace the playing sand. We recommend cleaned river or dune sand. White sand is also possible, but this type of sand is less suitable for building sand castles or making sand cakes.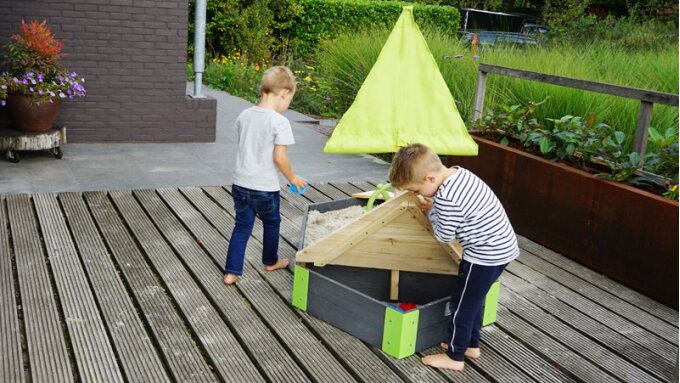 Also, carefully consider where you decide to place the sandpit in your garden. If possible, try to place it in a quiet area, but in such a way that you can keep an eye on your children from the house or terrace. Choose an area that has both sun and shade and if necessary place an umbrella above the sandpit for shelter during sunny days. Keep your sandpit at distance from bigger plants and trees so that your sandpit doesn't get covered with leaves.

Trampoline
Covering your trampoline with a trampoline cover during the winter is a good idea. This saves a lot of cleaning work in spring. When cleaning your trampoline, choose mild cleaning products so that you don't damage the trampoline. Proceed with lukewarm water and green soap and always use a soft cloth or sponge.

Go-kart
Ready, set, go! Service your go-kart for a flying start of spring. Give it a good wash and check if the nuts and screw bolts are securely fastened. Now your go-kart looks great, you can safely take to the street when the first rays of sunshine appear. In our blog the EXIT self-service for your go-kart, we advise you how to maintain your go-kart.


Sports products
Kick off the outdoor season with sporty products to work-out in the open. Now it's getting warmer outside, you can replace the gym with a ball game in the park: fun, cozy and healthy. Time to wash and pump up your balls. You can use an air pressure gauge for this. If the air pressure keeps dropping, your ball needs to be replaced.
Football goals, rebounders and sports nets are usually maintenance-free and can be rinsed with a garden hose. Make sure you check the net carefully after winter. Is it broken or worn? Replace it with a new net. You will find a wide range of nets and other parts at our website. This is how you breathe new life into them.
Now that your outdoor toys have been serviced and everything is fresh and clean, you're ready for spring to come. Whether or not the lovely weather is still taking a while, your mood can't get any better!
For more information? Call, email or chat with us!
Do you have any additional questions about our outdoor toys? Please let us know! Contact us via chat, call +31 314 - 796 020 or email us at info@exittoys.com. We will get back to you within 24 hours.
Written by: Iris