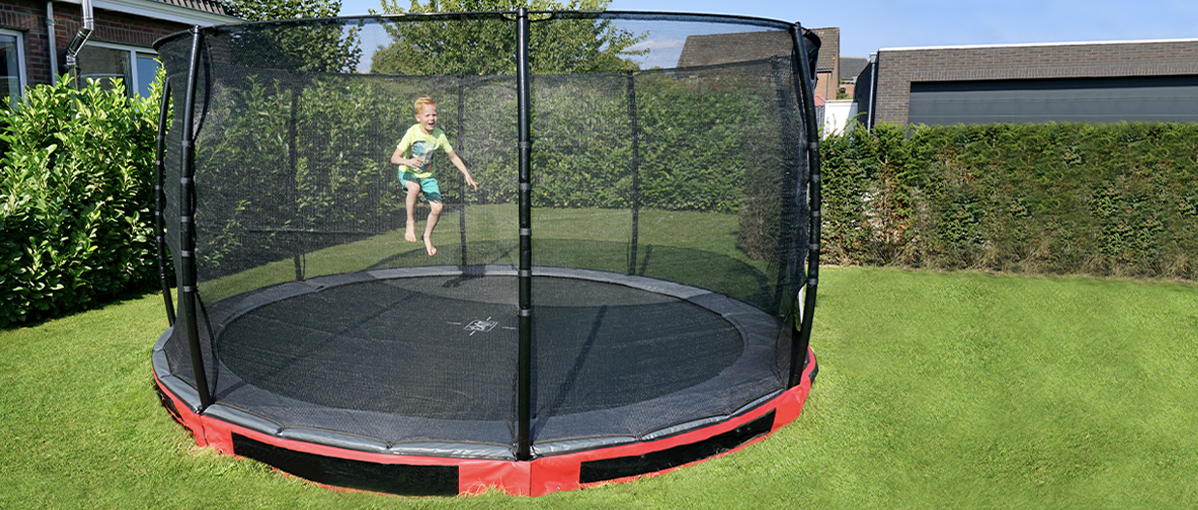 How do you dig in a trampoline?
Digging in a trampoline has great advantages: it creates a serene look in your garden and even the youngest ones can easily step onto the trampoline. So, digging it in is definitely worth it! But, how do you actually dig in a trampoline and what should you take into account? EXIT Toys explains:
Special dug- in trampolines
Please note that when you want to dig in a trampoline, you need to buy a special dug-in trampoline. A trampoline on legs cannot be dug in. Read about the differences between dug-in trampolines and trampolines on legs. EXIT Toys has both trampolines on legs, as dug-in trampolines.
You can then choose between two kinds of dug-in trampolines: in-ground and ground-level trampolines. The frames of the in-ground trampolines rest on the ground and stick out a mere 20 centimeters above the ground. The frame of the ground level trampoline is placed on an edge in the hole, which allows it to stand completely at ground level as if it has disappeared into the ground.
Type of surface
Before you grab that spade, it is advisable to let a gardener check to see if your soil is suitable for digging in a trampoline. Is it a loose type of soil like sand, loess or sulfur? That's great: via these types of ground rainwater can easily escape so that no puddles of water will stay behind in the hole. Because nobody wants wet feet while jumping! Does your garden contain compact soil such as clay or bog, then we suggest you install drainage pipes through which the water can be removed from the hole.
When you have a high water level, wiring or pipes in the ground it is also better not to dig in a trampoline. Luckily EXIT Toys also has an extensive range of trampolines on legs!
Best spot for inground trampoline
Is it time to start digging? Only do so when you have really thought through where in your garden you would like the dug-in trampoline to be placed. Choose a spot which allows sufficient free space around the trampoline, so that children can jump carefree. And in case of fun and crazy stunts, it is more comfortable when the trampoline is surrounded by a soft surface, such as grass.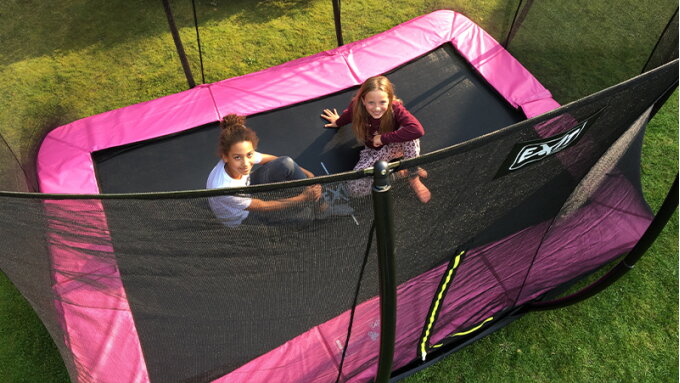 Digging in trampoline
So now it is time to roll up your sleeves and get to work! Of course you could also ask a gardener or maybe you have a nice and handy neighbour to help you out. On our website and in the manual you will find the detailed measurements required for every type of dug-in trampoline from EXIT Toys. Please note: the size of the hole varies per trampoline. When you keep to these measurements, you will dig the perfect hole for your EXIT trampoline.
Dig the hole in the shape of a bowl and make sure that the ground on which the frame will rest is flat: this way the trampoline will stay firmly in place. Are you not confident that the ground is sturdy enough? Use rubber tiles, so that the trampoline won't be able to move and also the rubber will not scratch the trampoline frame.
Make your choice
Which dug-in trampoline from EXIT Toys suits you best? Click on the help button to discover the most suitable trampoline for in your garden. Has the hole finally been dug and the trampoline has ben set up? Then the time has come to enjoy your trampoline! With the trampolines from EXIT Toys your children can make the greatest jumps of joy.
More information? Call, email or chat with us!
Do you have questions about the dug-in trampolines? Please let us know! Contact us via chat, call us at +31 314 - 796 020 or email us at info@exittoys.com. We will be jumping with joy to help you!
Written by: Laura