Continue reading Read less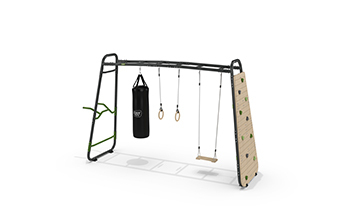 Tough GetSet play units
Are the children still young then one of our GetSet monkeybars with for example a wooden swing, gymnastics rings and a climbing net is great fun. They will fully enjoy the GetSet: indulging in the fresh outdoor air, alone or together with friends and neighbourhood kids. Kids have the best fun on the GetSet!
Versatile GetSet play and sports combinations
Would you like to have fun on an EXIT GetSet together with your children? You perfectly can with these GetSet monkeybars, that enable playing and exercising at the same time. While you go through the exercises of your workout, your little ones can swing, climb and tumble right beside you. That way you can keep an eye on them while you're working on your shape: win-win!
Challenging GetSet sports units
Are you a sports fan yourself or do your 14+ year-olds love to exercise with their friends? Then one of these sportive GetSet monkeybars are perfect. These units are suitable for all sorts of fitness exercises like push-ups, pull-ups, dips, boxing and more. You decide when to exercise, because with the GetSet you bring the gym to your home and you no longer need a gym prescription!
GetSet accessories
Would you like to determine yourself what your GetSet is going to look like? Then you can choose a GetSet monkeybar to which you can attach individual EXIT GetSet accessories. For the kids we have fun play accessories in our product range, like a trapeze and a climbing wall. Would you like to expand your workout, then you can choose from our sports accessories. You can also choose to add extra accessories to your existing GetSet. You can change the accessories with the easy suspension system.
Read less