EXIT GetSet sports units
Bring the gym to your own backyard! With our EXIT GetSet sports units you can enjoy your favourite workout at any given moment. Strength, endurance or fitness exercises: with the GetSet sports units you can do it all! For loads of fun and challenge for sportive 14+ year-olds and adults.
Continue reading Read less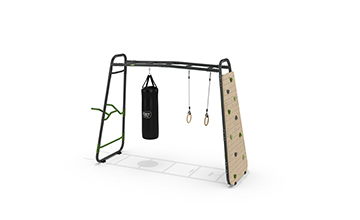 Which GetSet sports unit do you choose?
You can choose between various EXIT GetSet sports units. Which one best suits your wishes and your garden? The GetSet units with an average length include the GetSet monkeybar and powerstations with a length of approximately 4.5 meters. Standardly these models contain sports accessories like a dip station, gym bench and punching bag. Would you like more options and more challenge? Then feel free to have a look at these GetSets: more length, more accessories: more outdoor fun. Challenge yourself!
Choose your favourite accessories
Would you like to determine yourself what your GetSet is going to look like? Then you can choose a GetSet monkeybar to which individual EXIT GetSet accessories can be added. Make outdoor exercising even more varied by for example adding a climbing wall or gymnastics rings to your GetSet. With the easy suspension system you can change the accessories in the blink of an eye.
Working out whenever you want
With the GetSet sports units, you can do your fitness workout any time of the day. With the frame and accessories included, you can combine to your heart's content and create your own workout. Is there a lost half hour? Get changed and off you go! Want to bet that your teenagers will also love to work up a sweat on this GetSet? If you still have small children, you can work out when they are in bed. You no longer need a babysitter!
Stylish design and top quality
The GetSet sports units have a sleek and appealing design. The high-quality frame is dark grey in colour and many steel sports accessories are luxuriously finished in an attractive shade of green. A modern look that fits any garden! The frame is rock-solid, galvanised and powder-coated. As a result, rust does not stand a chance and every GetSet has a long lifespan. Because the frame is firmly anchored with quick-concrete, the foundation of this unit is super stable. All the safer if more people use the GetSet at the same time!
Read less