Swimming pools
A pool in your own garden, who wouldn't want that? With the framed pools from EXIT Toys, you no longer need to leave your home for a fun dip in the water. To make it extra convenient for you, all pools contain an included water circulation system and all the high pools come with a pool ladder. Are you looking to buy a pool that has everything you could wish for? Check out our entire range of framed pools here and order now!
Continue reading Read less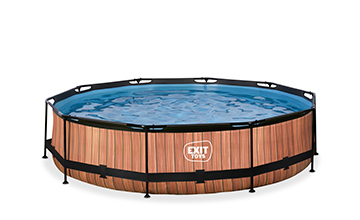 Always ready for a swim
Our round and rectangular pools are available in different sizes. Ranging from a nice and cosy round pool to a large rectangular pool in which you can have fun with the entire family: the EXIT framed swimming pools are always ready for a swim! You no longer want to be dependent on the weather and want to enjoy a swim in your own pool, any time of the day? Go for our exclusive EXIT pool dome or canopy and create your very own indoor pool or shadow. Do you find it difficult to make a good choice? Then dive into our EXIT pools choice aid. In just a few steps you will find the perfect swimming pool that suits your wishes.
EXIT framed swimming pools: unique and éxtra sturdy
The EXIT Toys swimming pools distinguish themselves from other pools with their unique design. Choose a natural stone or wood pattern for a complete integration with the rest of the garden. Or would you rather go for a luxurious leather look, a grey or cool lime green colour? The options are endless. Striking about the EXIT swimming pools is the high-quality frame with black or grey powder coating. This makes sure the pool stays firmly in place even during the wildest of water adventures!
Swimming pool accessories
Are you still looking for fun and practical pool accessories. EXIT Toys is also the place to be for filter wadding for in the filter pump, (ground)covers, test strips and many more useful accessories. Or choose the EXIT pools with accessory set. With the added accessory set you can make your pool ready for use in a flash. What are you waiting for? Go for a refreshing swim in the EXIT Toys swimming pools!
Read less