EXIT swimming pool accessories
Have you bought a swimming pool and are you still looking for useful swimming pool accessories? From a cover to a swimming pool maintenance set and from filter wadding up to a heat pump, EXIT Toys has it all!
Continue reading Read less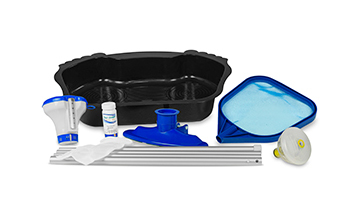 Clean it up!
Keep your swimming pool water clean with the EXIT pool cartridge filter pumps or sand filter pumps. These are standardly delivered with EXIT swimming pools. A filter pump filters out the dust and keeps the water moving. This prevents the growth of algae in the water. Let the filter pump work optimally by using filter wadding. You can read the benefits of filter wadding in your swimming pool filter pump in our blog. Still not clean enough? With the EXIT maintenance set you can get your swimming pool spotlessly clean.
Protect your pool
Use the EXIT pool cover to optimally protect your pool during all weather conditions. The ground cover is also very useful for this purpose. The EXIT ground cover protects swimming pools mainly against damage and mould that develops under the pool. The pool covers and ground covers are useful and provide your swimming pool with a longer lifespan.
For a nice warm bath
Do you prefer getting into a nice warm bath? Connect the EXIT heat pump to the swimming pool filter pump and heat up the swimming pool water to a pleasant temperature. This way you can extend the Summer pool season and also experience the best water adventures on colder Summer evenings.
Read less