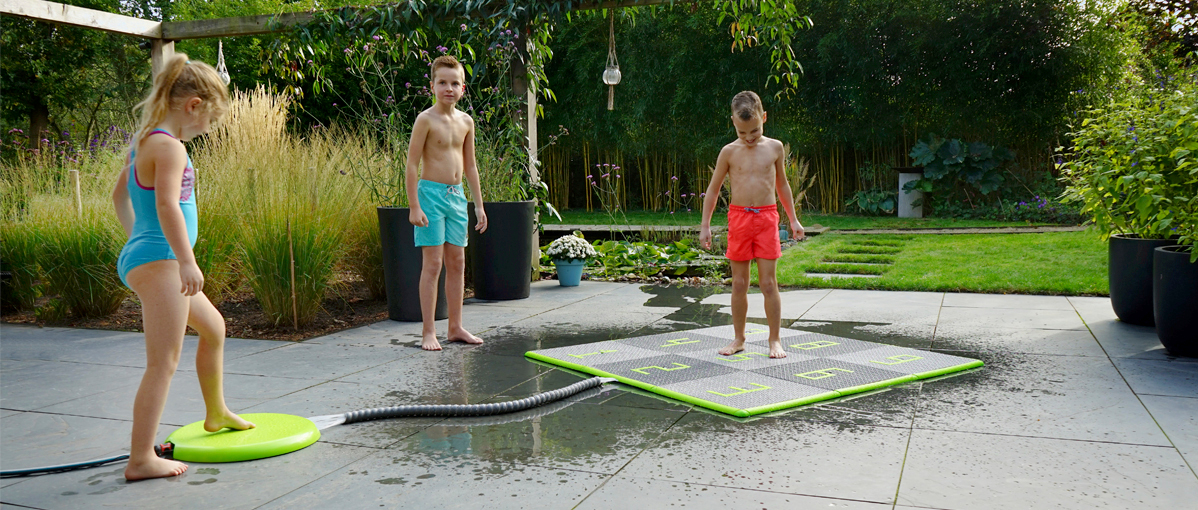 EXIT Sprinqle play tiles: all seven games in a row!
Are you already familiar with the Sprinqle water play tiles from EXIT Toys? These interactive floor tiles have nine water sprays coming out of them which can squirt up to 3 meters high! And did you know you can play all sorts of fun games with them? You can activate them with the foot controller or with the special Sprinqle app. But you can also make up your own rules. In this blog you will discover the most fun Sprinqle games from EXIT Toys.
How can you operate the Sprinqle?
You can activate the EXIT Sprinqle in two different ways: via the Sprinqle app or the foot controller. The foot controller is always included. Tap once with your foot, then the first water game will start, tap again and the second game will start. And so on! Would you rather stay dry while you operate Sprinqle? Step away and use the Sprinqle app from a distance. The app can be downloaded free of charge from the App Store or Google Play Store. Ready? Let's play!
Game 1: Catch
The Sprinqle game 'catch' is all about quick responsiveness. How many water sprays are you able to catch? To play the game, stand on the middle tile of the Sprinqle and let the unexpected water sprays surprise you. In the middle you will stay dry, but the sprays of water will appear in a random sequence in front, behind and to either side of you! Sometimes even two at a time. Move like a real ninja and try to touch as many water sprays as you can with your hand, foot or any other body part.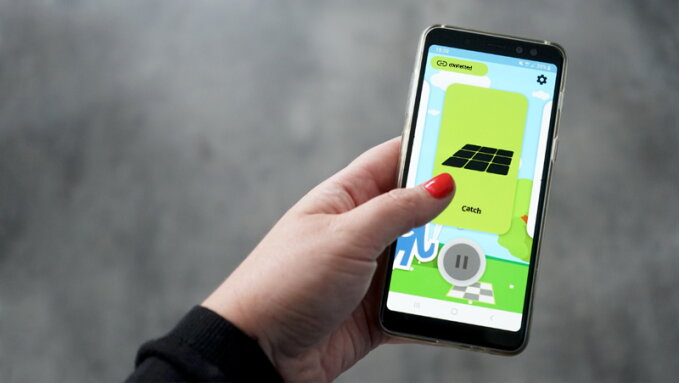 Game 2: Forward
The second game 'forward' allows you to predict the water sprays. You see they follow a continuous pattern from the front to the back. In turn the sprays will move from left to right over the first, the middle and the last row of tiles of the Sprinqle. This way you can jump or dance behind them. Or will you run through them instead? What kind of splashing water show can you think of?
Game 3: Bounce
In this game the fountains squirt up in turn from the front to the back over the floor tiles (from tile 1 to tile 9), just like in the game 'forward'. But instead of starting again at number 1, the water sprays will now go back in the opposite direction. Try avoiding them now! Especially when you are on the Sprinqle together, it is a real challenge.
Game 4: 3 by 3
Time for a real splashing Sprinqle party! In the fourth game '3 by 3' you will have to deal with not one, not two, but as many as three water sprays at a time. The fountains move in threes in a horizontal row from the first row to the last row and back again. Really cool to play with three people. You can for example jump over the water sprays holding each other's hands. Or run between the fountains. But be quick because before you know it, the water sprays will start moving again!
Game 5: Snake
In the game 'snake' on the Sprinqle, the fountains squirt up in turn and slide like a snake in a S shape over the play tiles. An extra water spray is added to the 'snake' after every round. Can you grab it?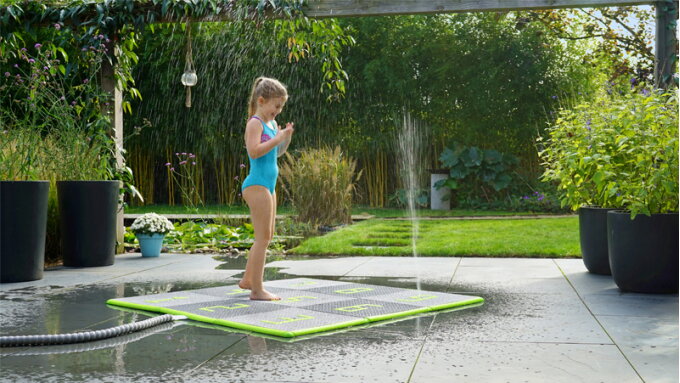 Game 6: Crisscross
The game 'crisscross' is a favourite for everyone who can move very swiftly. Here the fountains squirt up all around in a random fashion. Now try avoiding them. Fun to play against your friends: use a timer and take turns standing on the Sprinqle. The person who stays dry the longest wins!
Game 7: Double crisscross
Have you got the EXIT Sprinqle game 'crisscross' under control? Then it's time to make it a tad more difficult with 'double crisscross'! This game is for experienced Sprinqle players. The water sprays will now squirt up per two in a random sequence. Next to each other, opposite each other, or completely random all together: To win this game, it necessary to stay completely focussed.
Interactive = in control
And to really finish it off you can also create your very own fountains. The game 'interactive' is only available on the Sprinqle App. You are in charge of where the water spray will squirt by clicking on a play tile in the app. Can you also make some simple sums? Then you can reward the person with the right (or wrong) answer with a water spray!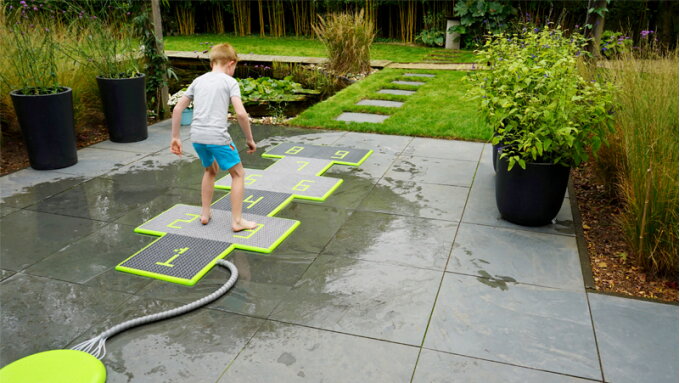 Use your imagination
Now you are familiar with all the cool Sprinqle games! To make it extra exciting you can make up your own play rules. For example, make up a rule with your friends that you are only allowed to stand on the even tiles. This makes it even more difficult to avoid water sprays. Or add an extra dimension to the game by playing your favourite music. Dance around the floor tiles while someone else operates the music. When the music stops you have to stand on a number as quickly as possible. Have you been hit by a water spray? Then its game over for you! Or how about a game of twister? 'Left leg on 2, right arm on 4.' The Sprinqle makes it all possible! What other play rules can you think of?
More information? Call, email or chat with us!
Do you have any additional questions about the Sprinqle? Or have you thought of a cool game you would like to share with us? Please let us know! Contact us via chat, call +31 314 - 796 020 or email us at info@exittoys.com. We will get back to you within 24 hours.
Written by: Iris