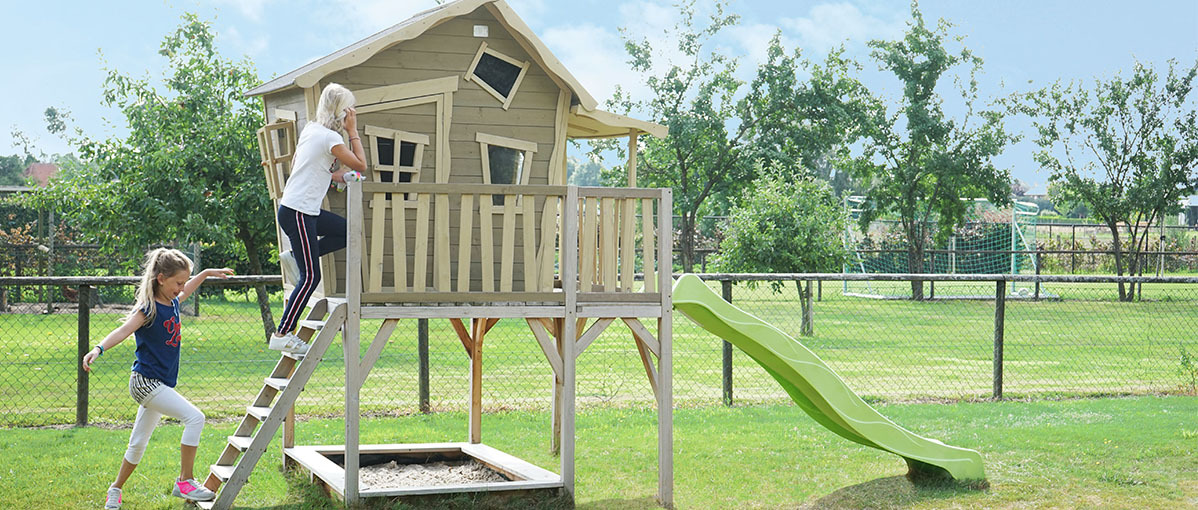 What is the best place for my EXIT wooden playhouse?
Have you just bought a playhouse from EXIT Toys or are you planning to buy one? There are a number of points you can consider when choosing where in the garden to put the playhouse. In addition to a beautiful view, you should also consider the safest and most maintenance-friendly place. EXIT explains where best to position the playhouse:
Keep a spot available
A wooden playhouse needs space, so where do you have space in the garden? Do not place the house too close to trees, overhanging branches, a hedge or fence. Children will then have plenty of space to play safely around the playhouse. In addition, this way you have space for other EXIT outdoor toys. Discover how to create a real playing paradise around your playhouse and children will have hours of fun in their own garden.
The best base
If you place EXIT Toys playhouses on a flat surface, they are strong enough so you will not need to attach them to the ground. Do you want extra stability? With the EXIT anchor set for play equipment and playhouses, the playhouse stays firmly in place even during your children's wildest adventures.
And are you the lucky owner of an EXIT wooden playhouse on legs? In addition to a flat surface, a soft base is also important: children always have a soft landing when they slide off the slide.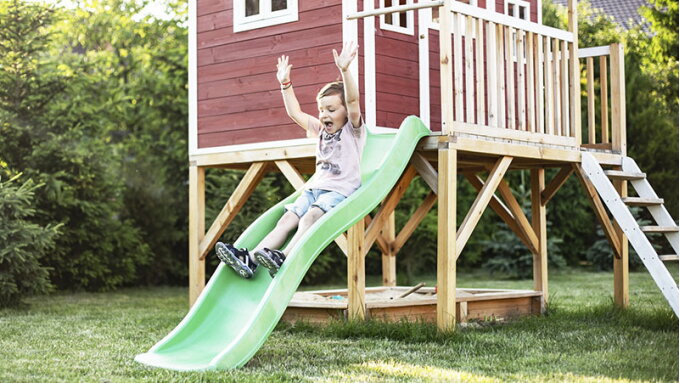 Optimum protection
Choosing the right place in the garden can make sure that the playhouse stays at its best. For example, try to place the house as sheltered as possible, to protect the wood against the most heavy rain and gusts of wind. Remember to keep enough space around the playhouse free.
In addition, a beautiful shady spot in the garden ensures that rays of sun do not affect the colour of the wood. Is the house in the sun? Make sure that the slide does not get too hot to slide on!
Choose your perfect EXIT playhouse
At EXIT Toys we have playhouses in all sizes and with several construction option so that you can always find the perfect house for your garden. With an EXIT playhouse on legs you can change the stairs and the slide and with the models with extension you can even attach the stairs or the slide to the front of the playhouse. EXIT Toys has a suitable playhouse for every garden! Take a look at our range of playhouses.
Want to know more? Call, email or chat with us!
Do you have additional questions about our playhouses? Let us know and we will be pleased to provide you with personal advice. Please contact us via chat, call +31 314 - 796 020 or send an email to info@exittoys.com. We will contact you within 24 hours!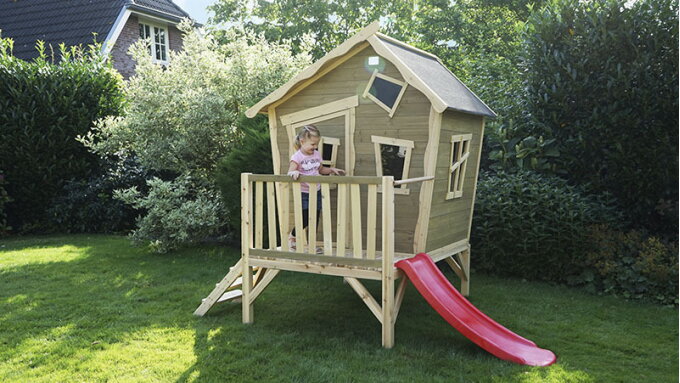 Written by: Laura