EXIT GetSet sports accessories
The possibilities to workout in your own garden with the GetSet are endless. Are you a real sports fan and ready for more variation or challenge? With our GetSet sports accessories you can go all out. GetSet and sweat!
Continue reading Read less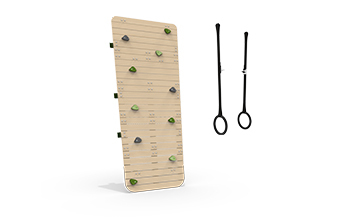 Expand your workout
A gym bench, push-up bar and punching bag: with the various GetSet sports accessories you can do anything! Depending on which muscle group you would like to focus on you choose your favourite accessories. Will you choose the climbing wall, plastic gymnastics rings or do you get energized from kicking the punching bag? Whichever accessory you choose: you'll find it at EXIT Toys!
The GetSet grows along with you
Have you purchased a GetSet play unit and have your children meanwhile grown into adolescents? Then you can start varying with your GetSet by combining the play accessories with sports accessories. That way the GetSet grows along with you and your family!
Easy suspension
The GetSet is designed in such a way that most sports accessories can easily be exchanged with the convenient suspension system. Would you like to include a new exercise in your workout, then remove an accessory and attach the new sports accessory to the frame. That way you will enjoy your multifunctional GetSet for a long time!
Read less