EXIT GetSet play accessories
With your GetSet the kids can have loads of fun outside. Playing together in the backyard, perfect. Are you noticing that the kids could use a bit more variation, or would you like to change an accessory? With the various GetSet play accessories of EXIT Toys you can. GetSet and play!
Continue reading Read less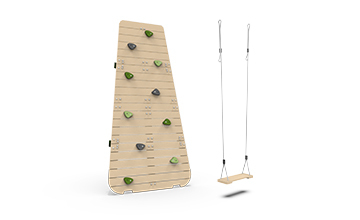 Something for everyone
At EXIT Toys you find a wide choice of GetSet play accessories. The swing is always a success with children and with a trapeze, gymnastics rings and practice bar they'll have lots of fun as well. A climbing net or -wall offers a bit more challenge for the climbers among the children. Check out our play accessories and choose which one suits you best!
Easy suspension
The GetSet is designed in such a way that most play accessories can easily be changed with the convenient suspension system. If your child is bored of an accessory, you can temporarily remove it and replace it with another GetSet play accessory. That way playing outside remains fun and varied and you'll have years of fun with the GetSet
Read less