EXIT GetSet units
Outside is the perfect place to have fun, play and exercise. With the GetSet units this is within hand's reach every day. Swinging, climbing, tumbling… the possibilities are endless. With the GetSet accessories you can keep varying: you won't stop playing!
Continue reading Read less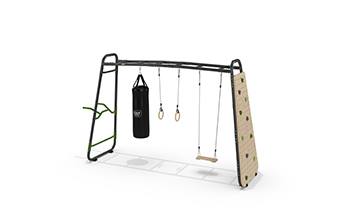 Tough GetSet play units
When the children are still young, a GetSet play unit with for example a wooden swing, gymnastics rings and a climbing net is great fun. Would you like to determine what your GetSet is going to look like yourself? Then you can choose a GetSet monkeybar to which individual EXIT GetSet accessories can be added. This means enjoying yourself to the full on the GetSet: in the fresh outdoor air, alone or together with friends or neighbourhood kids. Kids have the greatest fun on the GetSet!
Versatile GetSet play and sports combinations
Would you like to have fun on an EXIT GetSet together with your kids? With these GetSet play and sports models, on which you can play and exercise at the same time, you can do this perfectly. While you go through the exercises of your workout, your little ones can enjoy swimming, climbing and tumbling right beside you. That way you can keep an eye on them whilst you work on your shape: win-win!
Asset in every garden
From a compact size that fits in almost every garden to an extended model for even more of a challenge: there's a GetSet for everyone's wishes. Due to their sleek and appealing design, every GetSet is a beautiful asset to every garden. GetSet and go!
Firm anchoring
The frame of each GetSet is firmly anchored with quick-concrete for a super stable foundation. This way you can safely let your kids play outside on the GetSet, also when friends or neighbourhood children are joining in the fun. The GetSet is standardly delivered with an anchoring set (excluding quick-concrete) with a clear action plan so you'll know exactly how to secure your GetSet.
Read less