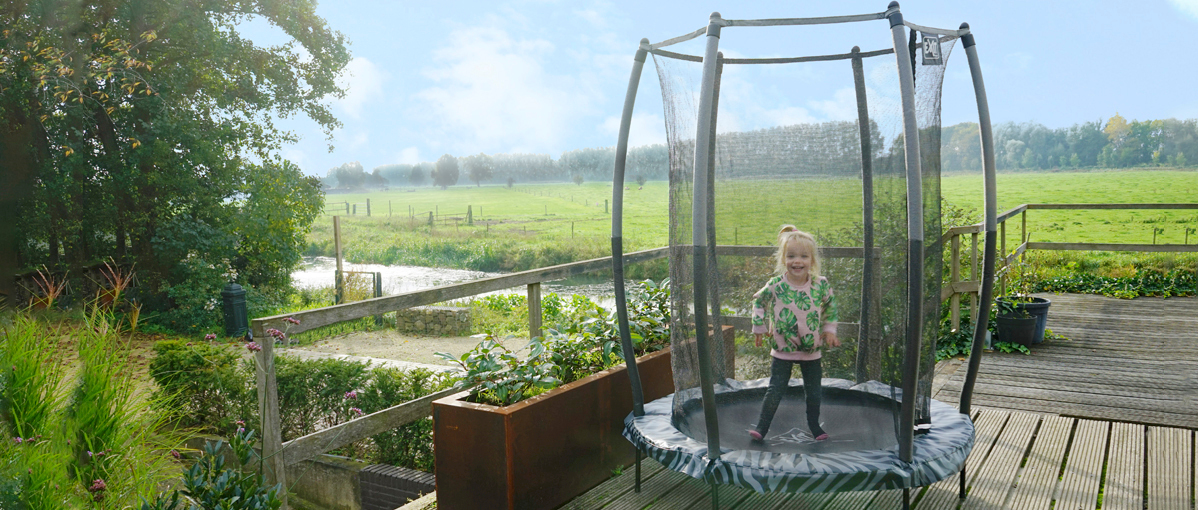 10x outdoor toys for toddlers and pre-schoolers
Even for the very youngest ones EXIT Toys has outdoor toys. Toddlers and pre-schoolers love to play in the fresh outside air where they can run, climb and explore all they like. Which outdoor toys are the most fun for their first outdoor encounters? Check out the 10 best items for toddlers and pre-schoolers from EXIT Toys:
1. For their first jumps: the Tiggy junior trampoline
The EXIT Tiggy junior trampoline is a trampoline specifically designed for toddlers and pre-schoolers. The safety net or the bar are there for safety, the elastics for the perfect bounce and the low step for easy access onto the trampoline. Ideal for the first jumps of the very youngest ones!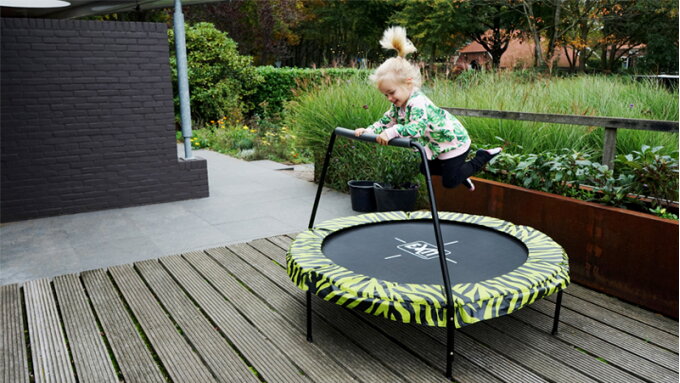 2. To climb and explore: a playhouse or play tower
Does your toddler or pre-schooler also climb onto anything they can possibly find? For those real climbers EXIT Toys has the playhouse on legs and the play tower in different sizes. Children will feel like the king or queen of their own play palace.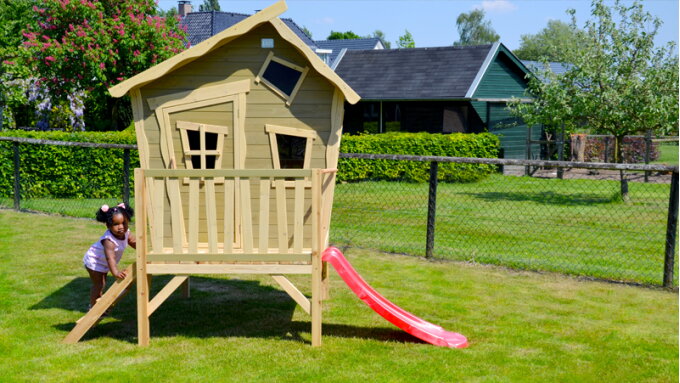 3. Mucking around with water: the AquaFlow water track
Little discoverers wil have all the fun in the world with the AquaFlow water track from EXIT Toys. This water track consists of water bins, locks and a pump with which children from the age of 3 will be able to operate. The AquaFlow children stool allows even the very youngest ones to play with the water. Simply grab a toy boat, squeaky duck or a table tennis ball and the fun and water play can begin.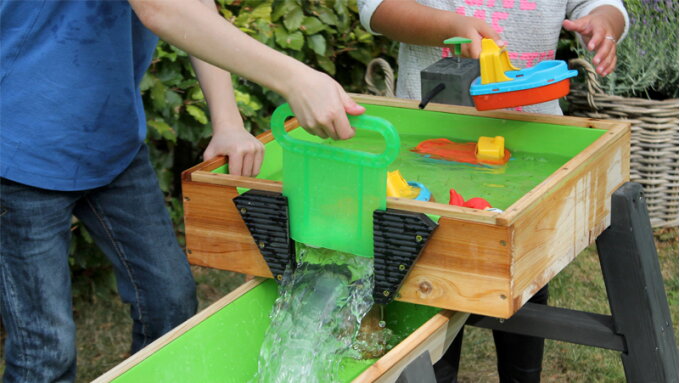 4. On hot summer days: the Sprinqle water play tiles
The ultimate joy on those hot summer days is playing with the Sprinqle water play tiles. Get an extremely fun and interactive game started between you and your child(ren)! You are in charge of the water panel, so will you make sure they stay nice dry when they cross over, or soaking wet instead? The Sprinqle is also ideal for teaching children to play hopscotch. Water fun and play guaranteed!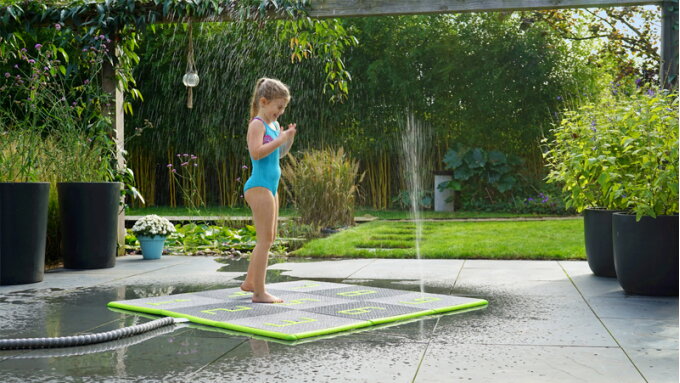 5. For their first discovery journey: a go kart
EXIT Toys is the place to be for go karts suitable for children from the age of 2. This means that your toddler or pre-schooler can start going on adventures at a very young age. And how great would a go kart with trailer be? Children can carry along all they find on their journey, or how about a ride with all the dolls and toys in the trailer? So much fun!
6. Learning and imitating: the Yummy outdoor kitchen
Is your toddler or pre-schooler already lending you a helping hand in the kitchen? Then the Yummy outdoor play kitchen is the perfect toy for him or her. Using their own pots and pans, toy stove and oven they can whip up the most delicious meals for you. Fantastic, such a little chef in the house.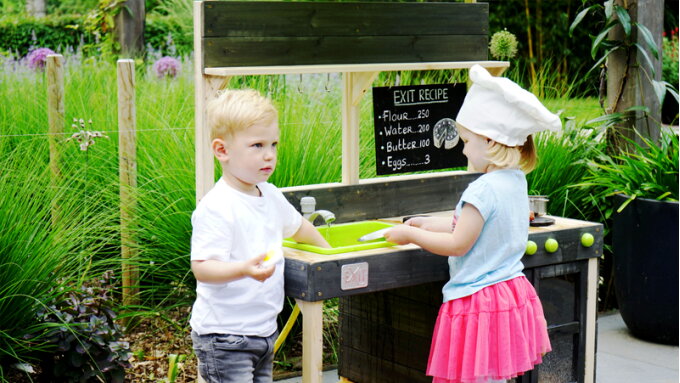 7. Building and digging: a sand pit
Toddlers and pre-schoolers can keep themselves busy for hours on the beach with shovels and buckets of sand: from building sandcastles to the most beautiful sand cakes. How much fun would a sand pit from EXIT Toys then be for bringing that beach vibe to your very own garden? Children will enjoy themselves, just like they would on an actual beach.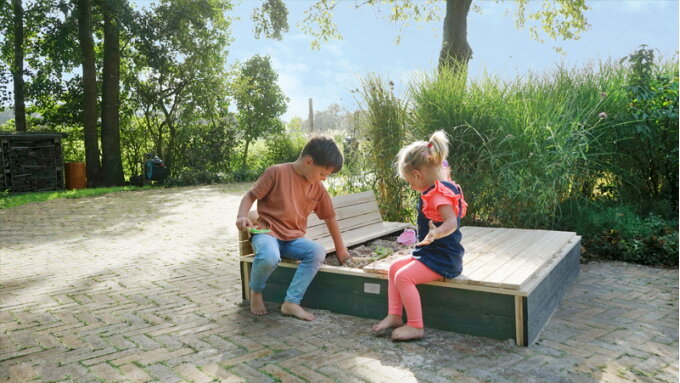 8. Playing together: the spinner seesaw
In addition to going to the beach, EXIT Toys also makes it possible for you to create a playground around your own home with the EXIT Spinner seesaw. This seesaw is firmly anchored to the ground and easy to use by little children. Thanks to the Spinner weekly visits to the playground with your child(ren) are no longer necessary and instead they will enjoy hours of fun and play in your very own backyard! Wouldn't that be nice?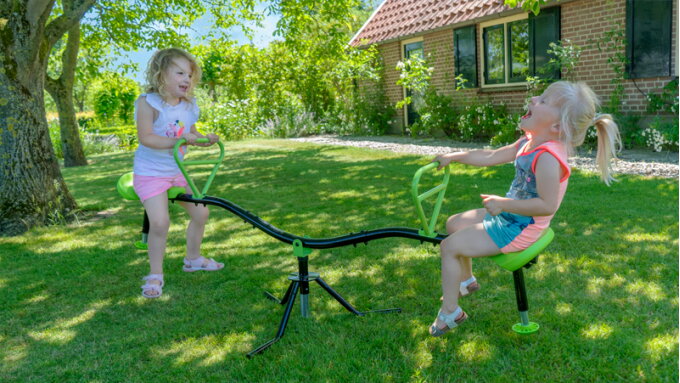 9. Stimulate the senses: a sand and water table
What do you think about a play table specifically designed for toddlers and pre- schoolers? The sand- and water tables from EXIT Toys have the ideal height for children and the variants with the bench(es) can also be turned into a picnic table! What a joy to muck about with water and sand or to use the table for eating lunch and other creative activities: Children will be kept busy for hours with the sand and water tables.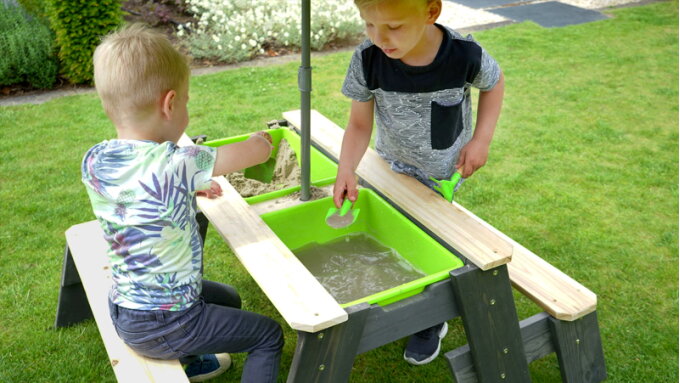 10. Nice and relaxing: a (nest)swing
Starting from a very young age children develop a love for swinging. EXIT Toys has the coolest swings for toddlers and pre-schoolers: how about a nest swing, swing bag or lounge swing? Time to swing and sway away.


These were our top 10 outdoor toys for toddlers and pre-schoolers. Which of the items mentioned above are a must have for in your garden? Or do you have another product in mind which you simply can't do without? Please let us know!
More information? Call, email or chat with us!
Do you have any additional questions about our outdoor toys? Please let us know! Contact us via chat, call +31 314 - 796 020 or email us at info@exittoys.com. We will get back to you within 24 hours.
Written by: Laura