Pool domes and canopies
Would you like to swim without having to keep an eye on the weather? Then choose the unique EXIT Toys swimming pool dome or the innovative canopy. Our domes and canopies can be used separately or together and many even fit the swimming pools of other brands. Give your swimming pool a true upgrade with a dome or canopy from EXIT Toys.
Continue reading Read less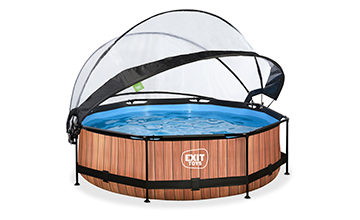 Create your own indoor swimming pool
Make your frame pool extra special with the EXIT swimming pool dome. In the wink of an eye you can create an indoor swimming pool. Under the dome you don't notice the rain or wind and when the sun is shining, the heat is kept underneath the dome. Thus, the swimming pool dome also creates a natural heating of the water. With an EXIT dome on your frame pool, you will have fun all summer long.
Ultimate refreshment
Would you like to cool off in a swimming pool on a hot summer day, but at the same time be protected against the bright sun? The unique swimming pool canopy from EXIT Toys offers optimal protection against UV-radiation, making sure children can swim carefree. The canopy can easily be mounted on the swimming pool and in addition it is easy to open and close. Get the ultimate refreshment with the EXIT canopy for swimming pools.
Read less