Which trampoline suits my child(ren)?
We have a great selection of trampolines at EXIT Toys. But what exactly is the right trampoline for your (child)ren when it comes to safety and bounce quality? EXIT explains what you should consider when choosing a suitable trampoline for your family.
A trampoline for all ages
EXIT Toys works with different quality categories for trampolines: bronze, silver, gold and platinum. Discover what determines the quality of an EXIT trampoline.

Young children experience the biggest fun jumping away on a trampoline from EXIT Toys with a bronze bounce rating. These trampolines have short springs so they can easily push off the mat. The EXIT Silhouette trampolines are our trampolines with a bronze rating, which makes them very suitable for this category.
Do you have older children with more jumping experience? On the trampolines with long springs they will make the highest and greatest jumps. For this group, the very best bounce possible is on the Elegant Premium and PeakPro trampolines, the EXIT trampolines with a golden up to platinum bounce rating!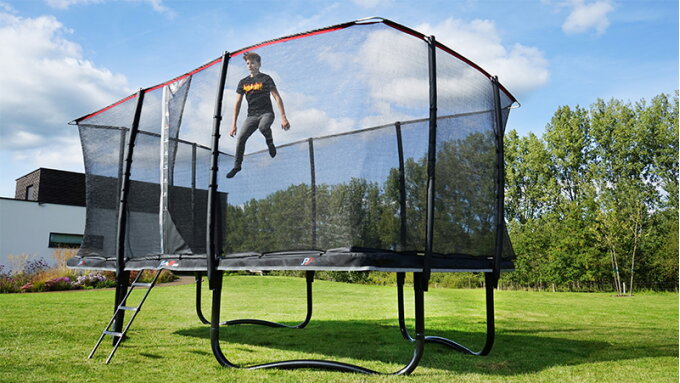 Keep the balance or maybe rather not...
Which trampoline shape is most suitable for your family depends on your (child)ren's jumping experience. A round trampoline is ideal for children with limited jumping experience: The mat is pulled tight all around which automatically moves them back to the middle with every jump. So, an easy way to keep your balance!
For children with sufficient jumping experience, the round trampoline is an option, but a rectangular trampoline is more of a challenge. So, is your child a real acrobat? Thanks its rectangular shape they can use the entire mat to practice all their stunts and tricks on the trampoline. Discover more differences between round and rectangular trampolines.
Entering the trampoline safely
And finally, you have the choice between an EXIT Toys inground trampoline or a trampoline op legs. An inground trampoline is a good tip for younger children. Because the inground trampoline is low to the ground, getting on and off is a piece of cake. Would you still prefer a trampoline on legs? With an EXIT trampoline ladder in combination with a trampoline platform even the youngest ones will have no problem climbing onto trampolines.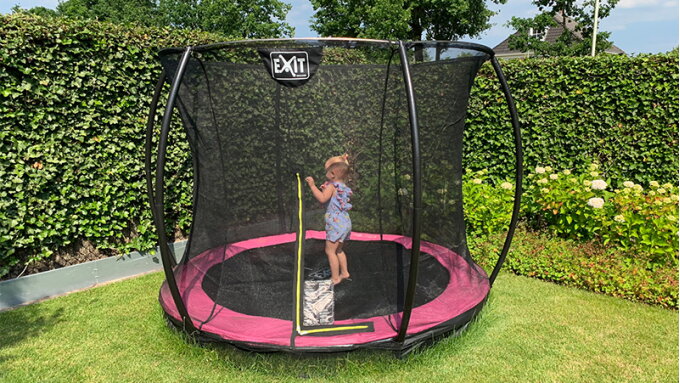 Luckily it doesn't really make much of a difference for the older children: because they can easily get onto any kind of trampoline, so at least you don't have to take that into account when choosing a trampoline. Are you not quite sure yet which trampoline you prefer? EXIT will gladly help you to make your choice between inground trampoline or a trampoline on legs.
A trampoline for the entire family
And what if there is a big difference in age and jumping experience and you only want one trampoline in your garden? Then we suggest you check out the EXIT Elegant trampoline. On these trampolines with a silver bounce rating both the young and the older children can push off well and so everybody will experience endless hours of jumping fun. A round inground trampoline is at least a safe choice. This way the children stay in balance and everybody can easily get onto the trampoline.
Discover the trampoline for your children now
See the table below to discover which trampoline features and which EXIT trampoline suits your children best. So, use our EXIT tip or check our entire collection of trampolines and choose your very own favourite!
For more information? Call, email or chat with us!
Do you have additional questions about our trampolines? Please let us know! Contact us via chat, call +31 314 - 796 020 or email us at info@exittoys.com. We will contact you within 24 hours!
Written by: Laura